Keyweb owns 2 geographically separated data centers in Thuringia, Germany with a high level of passive safety. Thanks to a comprehensive security system, data centers are protected from data theft, interruptions or negative environmental influences, which is confirmed by certificates from the Saarland Association of Technical Supervisors (TÜV Saarland). Energy efficiency as well as the use of energy from renewable sources are important principles for the operation of our data centers. A high-performance network backbone with a redundant 60 Gb direct-connect connection guarantees a high level of availability.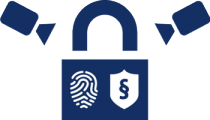 stable fault-tolerant infrastructure
a wide range of fire safety measures
modern access control and video surveillance
TÜV certified data center level 2 tekPlus based on ISO 27001
and ISO 27002
located in Germany
Infrastructure

In addition to a fault-tolerant and stable infrastructure, we also provide state-of-the-art surveillance systems. The overall IT infrastructure is monitored and managed with appropriate surveillance systems, and CCTV cameras are placed indoors. In this way, all components and indicators can be checked at any time: from power supply and cooling, to the security and health of IT systems.

Fire safety

To prevent the occurrence and spread of fires, a number of technical and organizational measures were taken. Among other things, the data centers are equipped with early smoke detection and fire notification systems on the ceilings and on the floor with direct connection to the fire department, smoke alarms and video surveillanc.

Access control

Deployed alarm systems and security measures are aimed at ensuring maximum protection of hardware and customer data. Server room entrances are monitored 24 hours a day, 365 days a year. A modern access control system ensures that only persons with the required level of authorization can enter. In addition, inspection rounds are carried out regularly.

Certification

Our data centers have been certified by the Saarland Technical Inspection Association (TÜV Saarland). Regular verification procedures confirm the technical and construction safety and optimal organization of Keyweb data centers.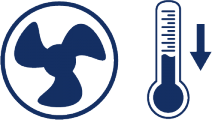 N+1 redundant cooling infrastructure
climate cabinets of new generation
principle of separation into cold and warm corridors
environmentally friendly and energy-saving climate system
Refrigeration cycle

For the air conditioning of our data centers, we use air conditioning systems from the reputable manufacturer Thermo-TEC Klimageräte GmbH, which are among the most environmentally friendly and energy efficient on the market. "We were very pleased that Keyweb AG chose air-cooled water-cooled air-conditioning in a compact, low-noise configuration. Thanks to this approach, up to 45% of energy costs are saved. As a manufacturer of quality air conditioning technology, we are very pleased to see Keyweb AG as a strong environmentally conscious partner." - Michael Hartig, Thermo-TEC.

Conditioning

Precise climate conditions and a high level of security are essential for the smooth operation of Keyweb data centers. To achieve these goals, we use a new generation of cabinet-type air conditioning units with spot cooling. They control temperature and humidity levels within narrow tolerances and thus create ideal conditions in our server rooms. The use of "free wheel" type fans with backward curved impellers controlled by an electronic system has made it possible to achieve an increase in efficiency and a reduction in energy consumption of up to 65% compared to classic 3-phase motors.

Cold/hot aisle principle

The application of the principle of cold and hot aisles ensures optimal circulation of cooling flows in close proximity to the servers. For this, the servers are not placed in one direction with their back side, but there is an alternation of corridors with the front and rear parts of the servers. The separation of hot and cold air streams contributes to more efficient air conditioning, since not all air in the room needs to be cooled, but only hot streams. As a result, the consumption of electricity is reduced. Cold corridors and raised floors additionally protect equipment from overheating.

Fault tolerance

Technical systems and servers in our data centers are protected and managed by a wide range of measures. The primary cooling system is reserved according to the N + 1 principle and is connected to the data center control systems. Thus, a stable conditioning cycle is guaranteed at all times.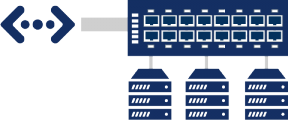 connection with broadband redundant channels with a total speed of more than 80 Gbit
switches and routers from the market leader (Cisco)
flat network hierarchy for optimal latency and performance
best possible uplink design to ensure usable throughput
Connection

The network infrastructure of network cabinets is organized in compliance with strict security measures. Each server cabinet is connected to the core network. To physically separate individual data streams, separate networks were also created for backups, server and cluster systems. Constant monitoring of individual network segments makes it possible to recognize so-called DOS attacks and immediately isolate the affected parts of the network.

Switch and Router

The core network is built exclusively on high-quality equipment (Cisco), which meets even the highest requirements. Using a flat model of the architecture of the set, we have achieved minimal delays and maximum performance. Switch redundancy ensures fault tolerance of the central components of the network. The optimal arrangement of uplinks is aimed at ensuring a guaranteed usable channel width.

External connection

Keyweb data centers are connected by a 60-gigabit channel to a high-speed multi-redundant Internet backbone. Our network connection consists of connections to DE-CIX, Lambdanet, as well as Vodafone and the world's largest Tier-1 Level 3 provider. Through multiple connections to providers in our data centers, the maximum level of availability and resiliency is achieved, because in case of failure at one of the providers, data can be securely transmitted over the communication channels of other providers.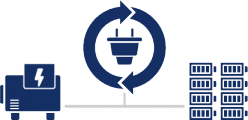 two separate independent power supplies (a+b)
uninterruptible power devices
backup diesel generators
100% environmentally friendly
Dual power cycle

The power infrastructure of our data centers has been built in such a way as to guarantee the highest degree of fault tolerance of the IT infrastructure. Even in emergencies due to continuous power supply. To do this, all server cabinets are supplied with 16 Amp electric current through independent power supply circuits (a+b).

Uninterruptible Power System

To provide power to the data center during possible power outages, highly efficient uninterruptible power supplies are used, which are distinguished by their high quality of electricity, efficiency and redundancy.

Diesel generator

In addition to uninterruptible power supplies, data centers are equipped with Deutz diesel generators. In the event of a power outage from the outside, within a few seconds, diesel generators producing 500 kVA are connected, which take over the power supply of the data center until the regular power supply is restored.

KeyEco

Our hosting is eco-friendly and carbon neutral. Keyweb's data centers are powered exclusively by water-based electricity. From an environmental point of view, this type of renewable energy is one of the most sustainable ways to extract energy.